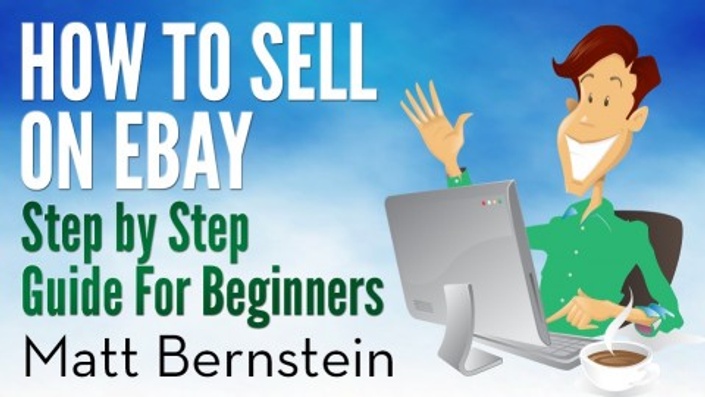 How to Sell on eBay & Amazon: The Ultimate Beginners Guide
First time selling on eBay & Amazon? No Problem: Learn How to Become an eBay Seller & Amazon Seller Overnight
How to Sell on eBay & Amazon For Beginners Step by Step
Everything you need to know about listing items for sale on eBay and Amazon. How to get the most money with every sale and shipping your customers orders.
The Simple 5-Step Formula on How to Sell on eBay & Amazon
Step by Step Guide
This course will teach you the actionable steps you can take to make money online by learning how to sell on eBay and how to sell on Amazon.
About Matt Bernstein
Hi, my name is Matt Bernstein and I've been selling online since 2006 and I've SOLD over $750,000 DOLLARS in total. On January 31st 2012 I started Sports Pulse and I made my FIRST SALE 2 WEEKS LATER. SALES to date as of 12/1/2013 have been OVER $525,000.00.
eBay vs. Amazon
Learn how eBay and Amazon work and learn which platform to best sell your items on in order to make the most money in exchange for your time.
Presale Research
Learn how to prepare your product listings on eBay and Amazon and how to set the best possible price in order to maximize your sales.
Listing Items
You'll learn how to sell on eBay and Amazon. How to list your items in order to maximize your sales. We'll go through everything it takes to list and sell your item on eBay and Amazon.
Shipping Your Items
You'll learn how to ship your customers sales. The best way to ship products and save on shipping costs in order for you to maximize your profits.
Matt is also the founder of LowCostHustle.com and the goal is to teach you how to teach yourself how to rely on yourself and become financially independent. Most importantly you shouldn't have to spend thousand of dollars to learn. Life is about learning and a great education should be easily accessible for a low cost. Matt's bestselling video innovations include "How to Make Money with No Money," Make Money Online: Selling on eBay & How to Start a Business," "How to Invest in Stocks: Develop an Investor's Mindset," and "How to Start an Online Sports Card Business in the U.S." You can learn more about Matt and Low Cost Hustle at www.LowCostHustle.com and contact him at [email protected]
Everything you've done in your life and every mistake you've made led you to this moment. Every success had to start somewhere and this is your new beginning. The only way you'll make a difference in YOUR life is if you actually do the work YOURSELF. The reason you're here is for me to show you something you didn't even know existed. My job is to lead you in the right direction. To plant an idea so deep into your brain that you believe you created it and to motivate you enough to pursue it. You have to do all the work to get ahead of the curve in this world.
Learn how to sell on eBay and Amazon today: Scroll up and grab your copy now.
Your Instructor
Entrepreneur
I've been selling online since 2006 and have sold over $775,000 online.
Learn how I profit $2,000-$3,000 per month selling online.
Learn how my stock market investments outperform the DOW and S&P 500.
eCommerce Expert
I genuinely want you to succeed. You'll learn how I made an EXTRA $24,000 a year selling online and spent no money upfront for inventory.
You know the phrase "You need money to make money" Well I wanted to prove that wrong. You'll learn how to gain access to ANY product at WHOLESALE PRICES. You'll be able to LIST their inventory and when you make a SALE they'll SHIP your order. You NEVER need to keep an INVENTORY. You only buy the customers order AFTER you make a sale. You make a PROFIT when you sell your items at RETAIL PRICES – wholesale prices = MONEY YOU KEEP!
Is this a scam? Hell no!
"But dude, you need money to make money. Everyone knows that…"
...and you'd be correct. But, what we're doing here is using your customers money to buy AFTER your customer PAYS for their order. It's called drop shipping. You list wholesalers inventory on your website. You make a sale and the customer pays you. You use your customers money to buy their order at wholesale prices and THEY ship out their order.
"Aren't you just a middleman?"
Yes! But you need a business license to work with wholesalers. That's how to business funnell works. You're an online retail store. Any retailer (Walmart, Target for example) are all middlemen too.
Manufacturers want to sell as much product as they can, so they sell to wholesalers who buy in bulk, who sell to retailers like us.
Investor
Ask yourself this question; why do you want to learn about the stock market and what are you hoping to get out of it?
The most common reason is because you have a desire to make and grow your money. I must caution that it is rare for someone to make a living just by trading in the stock market; rather the markets are a tool that provides the opportunity for turning the money you have already earned at your day-job into earning even more money.
Fear is another common motivator for watching this video innovation series. Everyone has heard of the stock market and the stories of how it can make or break your bank account. It is normal to fear the potential losses but all the while desire the lucrative gains. I'm here to ease your market anxiety.
Others might have tried their hand at investing but found little to no success. With this course I offer up to you the chance to view the markets from my own perspective and what I have found to be successful.
Course Curriculum
First Section
Available in days
days after you enroll
Getting Started
Available in days
days after you enroll
How to Sell on eBay & Amazon
Available in days
days after you enroll
Frequently Asked Questions
When does the course start and finish?
The course starts now and never ends! It is a completely self-paced online course - you decide when you start and when you finish.
How long do I have access to the course?
How does lifetime access sound? After purchase, you have unlimited access to this course for as long as you like - across any and all devices you own.
What if I am unhappy with the course?
We would never want you to be unhappy! If you are unsatisfied with your purchase, contact us in the first 30 days and we will give you a full refund.